Imagine remotely monitoring your home security cameras, walking inside your home, turning on the lights, and adjusting the temperature with only one device: your smartphone. You won't have to worry about leaving your lights on, your smart thermostat will turn down the air conditioning or heat to save money, and you can monitor anything from your phone with indoor and outdoor security cameras.
Although only some solutions can completely automate your home, installing and controlling many smart devices is now easier than ever. Our electricians in Kent will walk you through all you need to know to get started with smart homes.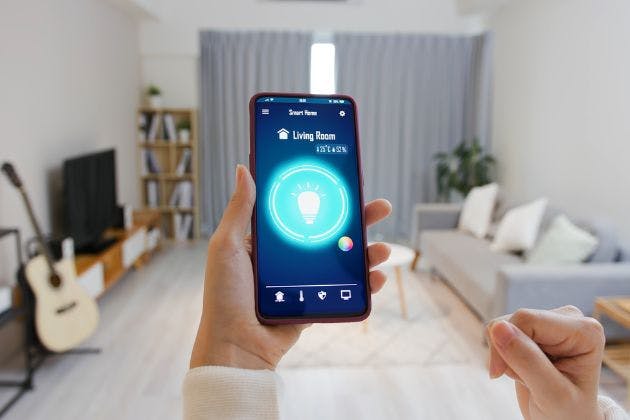 Controlling Everything in Your Smart Home
It depends on the brand, but in most cases, you can control the basic features of many smart home gadgets directly over Wi-Fi or a smartphone app. This means you can simply connect it to your home Wi-Fi network, download the appropriate app, and have full access through your phone.
Perhaps you like the concept of using your voice to turn on your lights or unlock your door. Choose a topic from the list below and find one that meets your demands by focusing on your desired characteristics. If you have any questions about how smart homes function or their benefits, please get in touch with Inspired Smart Living. Our electricians provide smart home services and will gladly answer any inquiries you may have. Visit recent customers' testimonials by visiting our reviews page.
Building a smart home can feel like a challenging task with so many different components in so many ecosystems. However, as with any activity, breaking it down into smaller steps can assist you in making sense of it all. We recommend beginning with one or two devices.
Smart Audio
Smart Audio technology makes use of the most recent advancements in audio technology to offer a sound of exceptionally high quality. With Smart Audio, you may stream music from the streaming services of your choice and enjoy the albums and playlists that you enjoy in a clear and crisp sound. In addition to that, Smart Audio gives you the ability to remotely control your music library, which enables you to listen to your favourite tunes from any room in your house.
Smart lighting
Smart lighting allows you to control individual or groups of lights remotely. You can set up the perfect atmosphere for watching films, eating meals or just relaxing by adjusting the colour, colour temperature, intensity and brightness level of these lights using your smartphone. You can do this from anywhere in the room. You can also programme them to activate and deactivate themselves in accordance with the schedule you specify. The best part is that this type of lighting is as easy to install as regular lighting.
Smart Home Security
When compared to standard security systems, smart security systems add an extra layer of security. These systems provide convenient control by allowing you to lock and unlock doors from your phone, view indoor and outdoor 360º security cameras, and turn alarms on and off via an app. Most smart security systems are full packages that are reasonably straightforward to install, but at Inspired Smart Living, we suggest hiring experienced electricians for the job.
Some brands also include smart doorbells as an extra feature, allowing you to see and speak to anyone who comes to your front door. Many smart doorbells also have additional features such as sensors detecting motion, issuing alerts, and recording video.
(More: How to choose the right Smart Security System for your home)
Smart Thermostat
Smart thermostats allow you to control your air conditioning and heating system from your phone and adjust the temperature automatically based on your schedule, the time of the day or the status of other connected devices. Some brands include remote room sensors to ensure uniform heating and cooling throughout your home. Smart thermostats are generally simple to install, but they necessitate low-voltage wire use, meaning only a certified electrician should conduct the job.
(More: What makes smart thermostats the future of home heating?)
Smart Homes Are Still Getting Smarter
While smart home devices can do a lot, they're not necessarily as sophisticated as you might expect. There is no perfect combination of devices that all interconnect perfectly and no single app that can control everything. It depends on the brands and on the devices you purchase, and therefore you can access different smart home devices through different apps.
Finally, smart technologies should make your life easier, not more complicated. So, try to avoid becoming overly preoccupied with constructing a smooth, integrated system that will survive forever. Instead, to get started, focus on your day's pain areas and select the devices that will improve your daily routine. Then, once you feel comfortable with smart technology, start exploring the other possibilities.
Are you considering switching to smart home devices? Get in touch with Inspired Smart Living, our electrical services in Kent cover smart lighting & networking, smart security, and among others. Give us a call on 0130 364 7340 or 0797 185 7475 or send us an email to help@inspiredsmartliving.com.